IGW Free Bear Choir in Prague!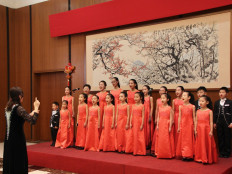 17.07.2018 |
We are happy to announce that the excellent IGW Free Bear Choir from China will sing in Prague during Prague Folklore days 2018
Founded in 2009, Free Bear Choir is the first children's choir which aims to protect lives.Free Bear Choir has performed for many times in honor of state and diplomatic events of heads of states. It has visited more than ten countries including the US, UK, Europe, Japan to conduct cultural exchanges and performances on behalf of Chinese children and youth.Free Bear Choir has conducted many charity events and performances in China's poverty-stricken areas, and made contribution to children in the mountainous areas in China. Besides, Free Bear Choir has made a call to protect animals including baby bears and baby seals.