Traditional International Independent Meeting of Folk Dance Ensembles, Folk and Windbrass Orchestras , Folk Singing, Traditional Costume and Marching Ensembles and Groups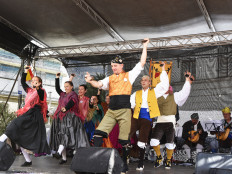 After two sad years of lockdowns all over the world, it is a great pleasure for us to invite you to Prague, capital of Czech Republic, to the 17th International Meeting of Folklore Ensembles "Prague Folklore Days", the biggest folk dance and music event in Central Europe.
The next festival to be held in the centre of Prague in the period: July 20 – July 23, 2023
The festival is open for amateur folklore ensembles of all types (singing groups, dancing groups with live or recorded music) as well as for marching groups /majorettes, historic soldiers, marching bands, flag wavers, carnival groups etc./ without age with min. 14 members
We have the honour to announce that the festival Prague Folklore Days 2023 will be traditionally held under auspices of the President of Czech Republic: Mr. Miloš Zeman - we are happy to repeat that as organizers of this event we have nothing to do whatsoever with copies and replicas of our festival organized by foreign companies and we always keep all promises given to the participants - be careful if any festival businesses from outside our country approach you...
In 2024 our festival will take place in the days July 25 - 28, 2024.
Welcome!
Festival Partners: