Prague Spring Choral Meeting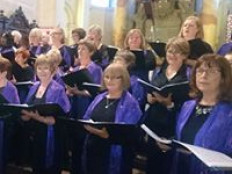 After having been forced to cancel the previous two editions of our festival due to the difficult epidemic situation, we are happy to invite your choir to the ancient city of Prague in the heart of Europe where the traditional Prague Spring Choral Meeting will be taking place on the following weekends:
Prague Spring Choral Meeting : April 21 - 24, 2023, May 04 - 07, 2023
The choral meeting is open to choral groups with min. 14 singers of all ages and all kinds (mixed, male, women, children, barbershop, gospel, church choir, gregorian music, instrumental vokal ensemble, …) from all over the world – as their name reveals, it is not a stressfull contest but a unique opportunity to meet other choirs from different countries, sing together and make new friends in the magic atmosphere of the beautiful Old Town of Prague. You will also be able to see all historical monuments of our capital – learn about Czech history, traditions as well as contemporary life. Prague is famous for its rich musical traditions and cultural life – it is a city of the musical greats such as Dvorak, Smetana as well as Mozart who loved Prague.
Most participating choirs come to the festival on Thursday and leave on Sunday, but is is also possible to arrive on Friday. Depending on the lenght of stay and your wish, you would have two or one public perfomance of 30 minutes in churches in the Old Town – all concerts are open to the public and free of charge. As a rule, the concerts are held at the majestic St. Nicolas Church at the Old Town Square (built in the years 1732-1737) and St. Salvator Church (built in the years 1611-1614) or St. Martin in the Wall Church.

On Saturday morning all participating choirs gather at a concert hall or church for a friendship concert – highlight of the festival is the common singing of all choirs. Singing can be arranged for choirs that wish to accompany a holy mass at one of Prague´s churches on Sunday (free of charge, of course). Apart from the concert program, you will have time for a walking tour of all main sights of Prague with your festival guide. In the evening you will be able to see our city from a boat on the Vltava River, visit a theatre or opera performance, get familiar with Czech cuisine and Prague ´s nightlife.
The Millennium Agency Prague is exclusive organizer of stays of all participating groups. Our long-year experience and many satisfied and returning choirs guarantee you top service and satisfaction. All costs connected with festival participation are carried by the participants, the organizers reserve the right to arrange the stay in Prague for all participants - the transportation to Prague and back is to be organized directly by the choirs.
You can look up the past participants, photos and videos on facebook:
http://www.facebook.com/praguechoralmeeting
http://www.facebook.com/praguespringchoralmeeting
http://www.facebook.com/pragueadventchoralmeeting
Contact:
MILLENNIUM Agency
Zahradníckova 20c , 150 00 Praha 5
Tel: +420 602686820, +420 607 552731
e-mail: info@praguefestival.cz